LinMot latest Drive support DS402 homing & Torque control
LinMot have updated their firmware to include Position, Speed & Torque control now. The respective CoE objects are mapped in the fixed PDO profiles.
The below LinMot Drives with Firmware 6.10 able to support this profiles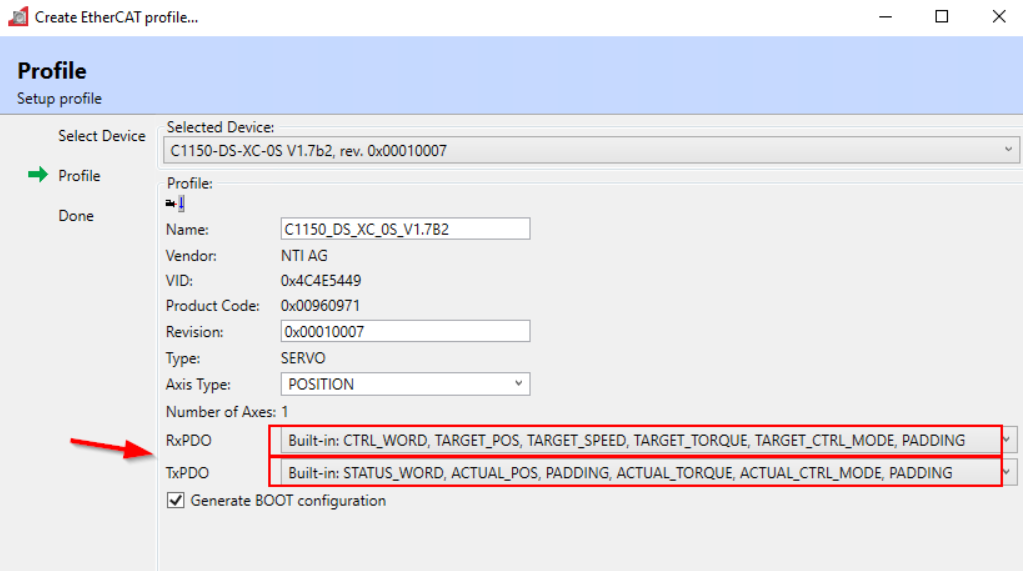 In the attached EC_EXTEND, TARGET_CTRL_MODE (0x6060) & ACTUAL_CTRL_MODE (0x6061) are mapped to VR's. User can then switch to DS402 homing mode by setting VR(2000) to 6. Then switch to Torque control mode by setting ATYPE=67 & VR(2000) to 10
Related Articles

AN-285 Homing CT Ethercat Drive

Many servo drives have built-in homing or datuming routines. When connected via a digital bus system, these routines can be used to home the axis. The use of the Emerson Control Techniques EtherCAT module for the Digitax and Unidrive SP is described ...

EC_EXTEND for ABB E180 Drive with External Encoder

EC_EXTEND for ABB E180 Drive with External Encoder Please see attachment.

Using DRIVE_POS_TORQUE & DRIVE_NEG_TORQUE on DX4

To use the command DRIVE_POS_TORQUE & DRIVE_NEG_TORQUE for Positive & Negative Torque mapped to the PDO on DX4 Drives, the firmware have to be updated to 101.4. Here's the link to update the firmware: ...

AN-360 Flexible configuration with Panasonic Drive

The standard EtherCAT profiles built in to the MC4 and MC6 range firmware have fixed mode operation that is defined at startup using DRIVE_MODE. In some cases the user may want to change the axis mode without re-starting the EtherCAT network. Some ...

Schneider drive LXM32M

The LXM32 is in the controller database. Here are some notes refering to this drive: 1.1. LXM32M Firmware profile V2.0271 and later have the settings for this drive. Firmware to set up the usual Trio small profile (V2.0271) Startup is OK. Drives with ...