AN-415 Connecting multiple HMI to Trio Controllers
On certain type of applications, it is necessary to connect multiple Uniplay HMIs to a single TRIO Controller. This document shows how it is possibly done with a simple code and structure.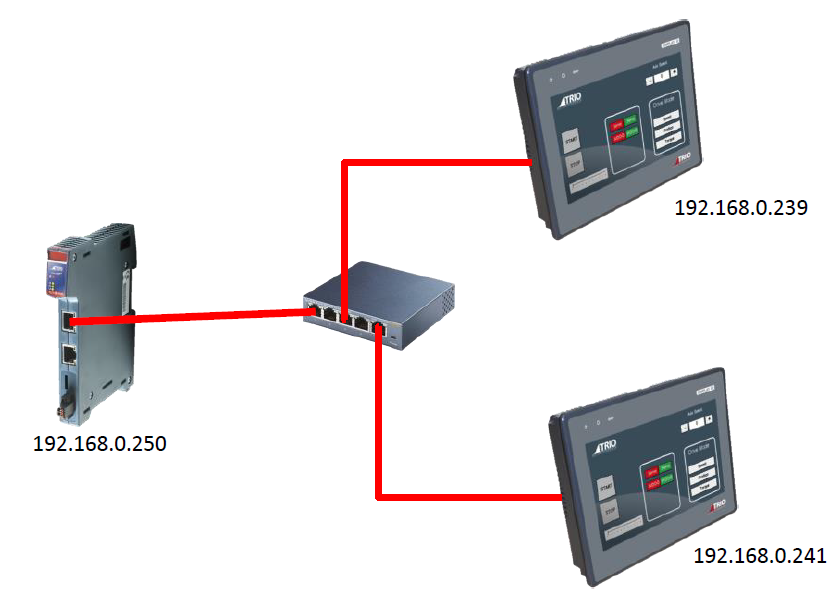 Related Articles

AN-343 Jogging axis with Trio UNIPLAY HMI

This document will show the user some tips to program a jogging operation with a Trio Uniplay HMI.

Uniplay HMI IP Address Change Using Motion Perfect

A video is available on our Trio Website showing how to carry out the IP address of your Uniplay 7 or 10 HMI. Please follow this link. http://www.triomotion.uk/system/downloadPage.php?location=%2Fvideos%2FUniplay_HMI

AN-339 Trio Controllers Communication option

This document consists on a summarized guide of the whole range of communication protocols supported by Trio motion controllers. After reading this document the user would be able to communicate with the controller through its different interfaces ...

AN-358 Conversion from Old Trio Keypad to UNIPLAY HMI

Systems using the P502 and P503 vacuum-fluorescent keypads can be updated to use the Trio 7 inch or 10 inch HMI. (P845 and P846) This document explains how to convert from this old keypads to the UNIPLAY HMI There are options to either use a ...

Uniplay Issues After Low Battery Condition - Checks & Corrective Actions

When the original battery in the Uniplay HMI expires at the end of its serviceable life the start sequence of the Uniplay may start to exhibit some issues. The UNIPLAY HMI takes one CR2032 / CR1225 / CR1220 coin lithium battery to keep the RTC ...